Beer, Cider & Seltzer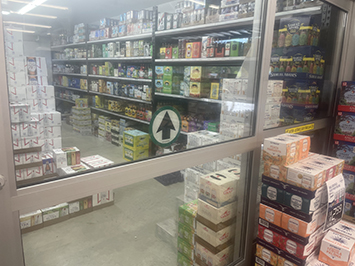 Gamber Liquors in Finksburg, Maryland carries the widest selection of your favorite beers, ciders & seltzers in the area. Whether you're looking for a classic domestic brand, an off-beat IPA, or the newest cider / hard seltzer, Gamber Liquors is your local destination. We carry all of the following brands and more!
Beer
Domestic
Budweiser
Bud Light
Bud Light Platinum
Guinness Blonde
Busch
Busch Light
Coors
Coors Light
Keystone Ice
Keystone Light
Killian's
Labatt Blue
Landshark
Michelob Light
Michelob Ultra
Miller High Life
Miller Lite
National Bohemian
Natural Ice
Natural Light
Naturday's
Pabst
Rolling Rock
Saint Archer
Shock Top
Yuengling
Imported
Amstel
Blue Moon
Corona
Corona Light
Corona Extra
Corona Premier
Dos Equis
Fosters
Guinness Draft
Heineken
Leffe
Modelo
Newcastle
Pacifico
Paulaner
Smithwicks
Stella Artois
Victoria
Warsteiner
Craft
Bell's
Dogfish Head
Evolution
Flying Dog
Harpoon
Heavy Seas
21st Amendment
Abita
Bold Rock
Boulevard
Breckenridge
Burley Oak
Charm City Meadworks
Cigar City
Devil's Backbone
DuClaw
Elysian
Founder's
Glutenberg
Craft
Golden Road
Goose Island
Hysteria
Key Brewing
Kona
Leinenkugel
Manor Hill
Monument City
New Belgium
Oliver's
Omission
Oskar Blues
RaR
Rogue
Sam Adams
Sierra Nevada
Southern Tier
Stone
Sweetwater
Troegs
Union
Victory
Ciders, Seltzers, and More
Angry Orchard
Bud Light Seltzer
Hoop Tea
Mike's Hard
Natural Seltzer
Seagrams
Smirnoff Ice
Truly
Twisted Tea
White Claw
Bold Rock
Brewer's Art
Magner's
Original Sin
Redd's
Woodchuck
We are conveniently located in Finksburg, MD, a short drive from many nearby cities and towns in Carroll County including Gamber, Westminster, Eldersburg, Sykesville, Hampstead, Union Mills, Union Bridge, Taneytown, Manchester, Keymar, Hampstead, and Mount Airy as well as Reisterstown & Glyndon in Baltimore County.